Signing up
Please stop in to the library to fill out a registration form or fill out our on-line form here.
 
Child Reading Adventure
Image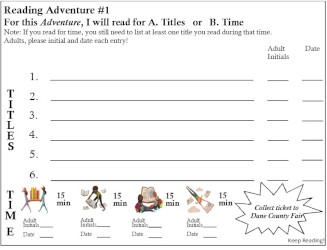 Adult Reading Adventure
Image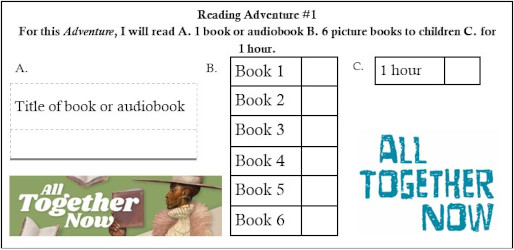 How It Works
Children and Teens will use a reading booklet if they would like to participate in the reading program.  Adults will have a separate booklet with different reading goals.  The booklet is full of reading adventures where you will choose to read Titles or Time.  To finish a reading adventure, you must read 6 titles or read for 60 minutes.  Older children and teens will be encouraged to read Time and younger children will be encouraged to read Titles.  Whenever an adventure is finished, please bring the booklet back to the library to collect your prize.  If you prefer, you can finish the entire booklet and hand it in all at once.  Each reader can finish 2 booklets.
What to Read
You can read anything you want, wherever you want!  If you would like us to show you how to use your library card to access books or magazines on your device or computer, we will be happy to do that for everyone.
Keep Track of Your Reading
Once you pick up a reading booklet from the library, start reading right away!  The actual reading program doesn't start until June 5th.  If you are reading titles or time, just make sure to have an adult put their initials down, which tells us that you read, next to the date that the reading was completed.  It is just that simple. 
Prizes
Each reading adventure you complete will get you 4 tickets to put in a bucket for the grand prize drawing!  There are also small weekly prizes that can be collected by finishing our reading adventures.  Those can only be collected once.  But you can get your name in the drawing for the grand prizes as many times as you finish your reading.  We have several prizes this year to give to our lucky winners so the more you read the more chances you will have to win.  Stop by the library to find out what our prizes are.
Sponsors
Thank you to all of our sponsors for this year's Summer Library Program!  A full list of sponsors will be uploaded when complete.